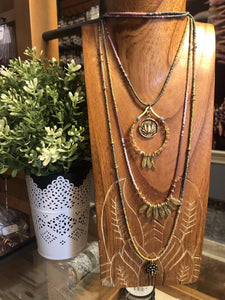 BASIC STRINGING (Beginner Friendly)
This class was designed for individuals who are looking to learn basic design and stringing techniques.  You will learn how to make a beautiful strung necklace from beginning to end.  You will leave with the confidence on how to use the appropriate tools along with useful tips and techniques to complete your next project.  In addition, we will focus on finishing techniques including the proper use of crimp tubes, wire guardians, the use of jump rings and various stringing materials.  
The cost of this class is $25., plus materials.  Please arrive at least 30 minutes early so that you may begin planning out your design.  Alternatively, you can stop in any time prior to the class to begin laying out your materials.  This is my favorite part but, I find with new makers that this is the most time consuming part as the amount of product you will be introduced to can be a bit overwhelming.  
Should you have any questions, please do not hesitate to contact me at 610-310-5568.