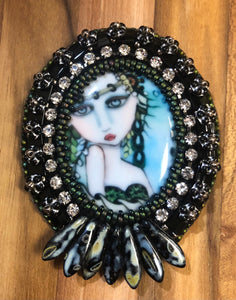 BEAD EMBROIDERY FUNDAMENTALS
PLEASE NOTE this class workshop is ONLY available for booking by calling the shop.  The reason for this is that we need to make sure we have sufficient staffing on-hand to run the shop.   This particular class runs somewhere between 4 and 5 hours and requires a minimum of students to run.  Thank you!
During this class you will learn the fundamentals of bead embroidery.  No prior experience required,  however, knowledge of the peyote stitch is very beneficial.  If you are not familiar with Peyote, please be sure to mention this to me before you arrive.  
You are not required to create the example shown.  We have natural stones and Kabela components in addition to kits available for purchase to begin your creation.  All materials must be purchased at Studio 36 Bead Shop EXCEPT the following items, which you may bring from home:  Beading thread (my preference is 8lb Fireline), beading mat, beading needles and  scissors.  
In addition, as this will be a long day, please be sure to pack your lunch and snacks.  We will only be breaking for a short period of time during the session.  
This is a class that requires some thought to be put into your creation so arriving at least a half-hour early is recommended.  You are also welcome to come in anytime prior to the day of class to begin organizing your thoughts and materials.  Class WILL begin promptly at the scheduled time, so please be sure to plan accordingly.
Thank you!