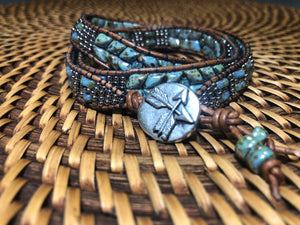 LEATHER WRAP BRACELET - (Intermediate Level)
Join us as we create this beautiful leather wrap bracelet.  Not sure where I learned how to make this beautiful baby but, it has always been one of my favorites so I figured it's time to get it on the calendar.  This class is designed for the intermediate beader and beyond in mind.
All materials must be purchased at Studio 36 with the exception of the items listed below.
You may bring the following items with you from home:  8lb Fireline, beading needles, beading mat and a little bit of your own creativity.
Should you have any questions, please do not hesitate to contact me.