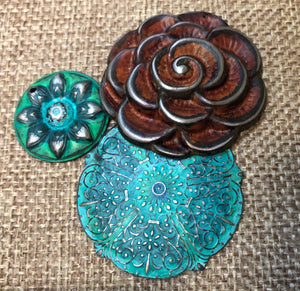 PLAY WITH PATINAS (Beginner Friendly)
Did you ever wonder how you could add some color to customize a pendant or charm?  This class takes designing to the next level.  You will learn how to blend and layer colors to give your pendant a beautiful finish.
The cost of the this class is $75. which includes all instruction and materials to create a bundle of pendants and charms in various sizes.  Images shown below are just a few of what you will have the opportunity to make the day of class.  If you are a Messy Marvin I would recommend not wearing good clothes as the patinas will not easily wash out of fabric.
Should you have any questions, please do not hesitate to contact the shop at 610-310-5568.