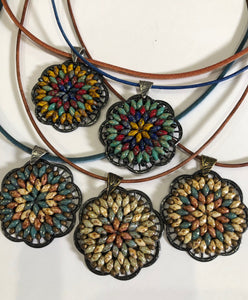 MANDALA PENDANT (Beginner Friendly)
This class was designed for the beginner bead weavers in mind and anyone looking to learn a new technique. No experience necessary.  The possibilities are endless with this pretty little pendant. 
The cost of the class is $25, plus materials.  This is one of the most requested classes we have offered since we opened in October of 2018.  Guaranteed you will quickly become addicted and out of control making these little babies.
You may bring the following materials from home to use in class:  8lb Fireline, beading needles, bead mat and scissors. 
Should you have any questions, please do not hesitate to contact us at 610-310-5568.